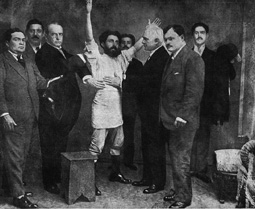 Sua mediunidade oo His mediumship

O que é um médium ? De acordo com os espíritas, um médium é uma criatura capaz de interagir com os planos espirituais ou atuar como elo com o chamado "mundo dos espíritos". O conceito científico-espiritualista é um pouco mais abrangente e extende essa intermediação a formas de energia psicobiofísicas desconhecidas e a interações com o nosso próprio Eu Maior.
Diz-se que Carmine Mirabelli podia gerar uma imensa variedade de fenômenos; Uma variedade jamais igualada por nenhum outro médium. Acredita-se que muitos dos seus fenômenos resultavam de suas próprias forças psíquicas, sem o envolvimento de entidades espirituais. Mas é sabido que também conhecia alguns ingênuos truques de prestidigitação.
A mediunidade de Mirabelli foi vista em ação por respeitadas personalidades. Na foto acima, estava sendo examinado antes de uma experiência pelos médicos Dr. Charles Niemeyer, Dr. Alegretti Filho, o Barão de Ergonte (um entusiasta das ciências psíquicas), Dr. Silvio de Campos (advogado), Dr. J. Motta (advogado e diretor do jornal São Paulo), entre outros. Como sempre, todas as portas e janelas do local foram lacradas e foi assegurada a melhor iluminação possível para que todos pudessem observar os fenômenos em detalhes.
What is a medium ? According to spiritists, a medium is a creature capable of interacting with spiritual planes or to act as a link with the so called "spirit world". The scientific-spiritualist concept is a little broader and extends the intermediation to unknown forms of psychobiophysical energies and to interactions with our own Higher Self.
It is said that Carmine Mirabelli could generate a great variety of phenomena; A variety never matched by any other medium. It's beleived that many of his phenomena resulted from his own psychic forces, without the involvement of spiritual entities. But it is known that he also knew some naïve conjuring tricks.
Mirabelli's mediumship was seen in action by respected personalities. In the photo above he was being examined before an experiment by physicians Dr. Charles Niemeyer, Dr. Alegretti Filho, the Baron of Ergonte (an enthusiast of psychic sciences), Dr. Silvio de Campos (lawyer), Dr. J. Motta (lawyer and director of the São Paulo newspaper), among others. All doors and windows were locked, as usual, and it was assured the best illumination possible, so all could observe the phenomena in details.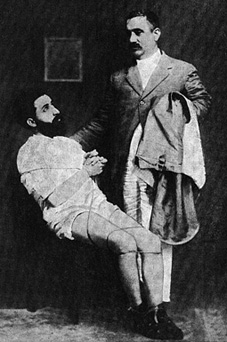 oo Em muitas experiências psíquicas Mirabelli era amarrado com cordas ou algemado apenas em seus trajes menores oo
oo In many psychic experiments Mirabelli was tied with ropes or hadcuffed only in his underwear oo
Os fenômenos de Mirabelli aconteciam a qualquer hora, em qualquer lugar, sem preparativos prévios. Um amplo espectro de fenômenos paranormais acontecia em salas lacradas ou em ambientes abertos, diante de pessoas crédulas ou incrédulas.
Cantava em três vozes (tenor, barítono e baixo) e tocava vários instrumentos musicais (violão, violino, piano, flauta etc.) sem jamais ter estudado música. Muitas vezes os instrumentos tocavam por si mesmo, sem contato manual;

Desenhava e pintava com facilidade, sem ter estudado arte. Fez muitas reproduções de quadros famosos. Diz-se que algumas pinturas foram feitas por precipitação (distribuição paranormal das tintas sobre a tela sem contato manual);

Podia ler, falar e escrever em dezenas de idiomas (inglês,francês, alemão, italiano, espanhol, árabe, chinês, japonês, russo, polonês, hebraico, latim, sânscrito etc.). Conseguia, simultaneamente, escrever com as duas mãos e produzir dois textos em línguas diferentes, enquanto falava num terceiro idioma. Seus manuscritos eram assinados por personalidades falecidas, algumas muito famosas;

Levitava objetos e seu próprio corpo;

Materializava personalidades mortas que podiam ser tocadas e fotografadas;

Teletransportava objetos animados e inanimados de/para lugares distantes, inclusive a si mesmo;

Produzia "água fluidificada" e curava doenças diversas, segundo centenas de agradecimentos publicados pela mídia impressa;

Produzia fotogênese (luzes paranormais) e osmogênese (odores paranormais);

Durante estados de transe, tinha conhecimento inexplicado de fatos futuros, atuais e passados;

Tinha esporádicas manifestações de telepatia (transmissão de pensamentos) e clarividência. Alegava poder ver e ouvir os mortos;

Escreveu longas teses, de qualidade acadêmica, e palestrou sobre seus assuntos como um professor faria. Os textos, escritos em poucos minutos, abraçavam diversas áreas do conhecimento humano (medicina, filosofia, teologia, música, ciências políticas, sociologia etc.);

Demonstrou incombustibilidade corporal enquanto cruzava uma grande fogueira.
Mirabelli's phenomena happened at any time, at any place, without any previous preparations. A broad spectrum of paranormal phenomena happened in sealed rooms or in open environments, in front of credulous or incredulous people.
He sang in three voices (tenor, baritone and bass) and played numerous musical instruments (guitar, violin, piano, flute etc.) without ever having had music classes. Many times the instruments played by themselves, without manual contact;

He could draw and paint with ease, but never had art lessons. He did many reproductions of famous paintings. It is said that many paintings were made through precipitation (the paranormal distribution of paint over the canvas without manual contact);

He could read, speak and write in many languages (english, french, german, italian, spanish, arab, chinese, japanese, russian, polish, hebrew, latin, sanscrit etc.). He could simultaneously write with both hands and produce two texts in different languages, while speaking on a third. His manuscripts were signed by deceased personalities, some very famous;

He levitated objects and his own body;

He materialized dead personalities which could be touched and photographed;

He teletransported living and non-living objects from/to distant places, including himself;

Produced "fluidified water"and healed many ailments, according to hundreds of public acknowledgements published by the printed media;

He produced photogenesis (paranormal lights) and osmogenesis (paranormal odours);

During trance states he had unexplained knowledge of future, present and past events;

He had sporadic manifestations of telepathy (thought transmission) and clairvoyance. He claimed to see and hear the deceased;

He wrote long thesis, of academic quality, and lectured about their subjects as a professor would. The texts, written in a few minutes, embraced numerous areas of human knowledge (medicine, philosophy, theology, music, political sciences, sociology etc.);

He demonstrated bodily incombustibility while traversing a huge campfire .

Mirabelli e sua família foram várias vezes vitimados pelos fenômenos. Objetos voavam ao redor e os atingiram em muitas ocasiões. O médium não controlava os fenômenos mas quando ficou mais velho conseguia refrear o fluxo de suas energias psicobiofísicas, reduzindo os riscos.
Mirabelli and his family were victimized by the phenomena many times. Objects flew around and did hit them on many occasions. The medium could not control the phenomena, but when he became older he could restrain the flow of his psychobiophysical energies, reducing risks.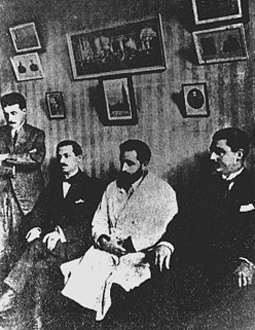 Mirabelli, era sempre observado bem de perto oo Mirabelli, was always observed very closely


Os primeiros anos oo The first years

O homem e o médium oo The man and the medium

Exemplos de xenografia automática oo Examples of automatic xenography

A materialização de Harun ar-Rashid oo The materialization of Harun ar-Rashid

A materialização de Giuseppe Parini oo The materialization of Giuseppe Parini

A falsa levitação oo The false levitation

Os últimos anos oo The last years

Galeria Mirabelliana oo Mirabellian Gallery